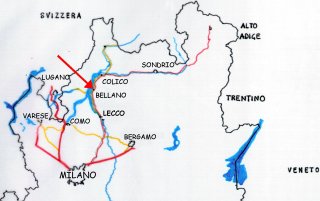 How reach Bellano

Bellano is a little town on the eastern shore of Lake Como, 75 km north of Milan. If you come from the south (Milano, Bergamo, Como e Varese) you can reach Lecco by train (timetable) or by car.
From Lecco by train, take the train for Colico-Sondrio-Tirano and get off at Bellano.
From Lecco by car, take the Superstrada SS36 towards Colico or Sondrio and exit at Bellano or take the Provinciale No. 72 along the lakeside.
Coming from the North (Valtellina, Switzerland) towards Colico by train or by car you can get to Bellano either by the Lecco or Milan train or by car on the Superstrada SS36 or the Provinciale No. 72 along the lakeside.
From Como, Bellagio, Menaggio, Colico and other villages you can get to Bellano by boat (timetable). Varenna (4 km from Bellano) is linked by ferryboat to Bellagio and Menaggio.



How reach the house

If you come to Bellano by car along the lakeside:
take the Vendrogno road at the north end of the town.
If you come down to Bellano from the highway SS 36:
turn right after the level crossing; go straight on through the town and take the Vendrogno road to your right. At the fourth hairpin bend, turn left to Oro. Go on for 1 km(do not take the road down to the left) and immediately after the bridge, you will see the village of Oro under the road. After the bridge park the car. Go down the steps on your left. A brief walk along the first path on the ladder towards the lake to reach us.

If you arrive by train or boat, phone and we will take you by car.



di Costanza Panella


Frazione Oro 20 - 23822 Bellano (Lc)
Tel. +39 0341 820586
cell.+39 339 6296123e-mail: costanza@oroalto.it


Prices max for room
(breakfast included):
Room

Euro

double single use

50

double

90

triple

120

Children under three free.
For families, groups and longs periods, contact us.

Electric car sharing is available at the Bellano railway station. Registration and booking on www.e-vai.com.
The day of departure the room must be vacated by 10.
In the house smoking is not allowed.
Educated pets are welcome educated.
Cradle, cot and games for children.
Possible use of a fridge, kettle, microwave, washing machine and iron.
A mountain bike is available.